Smart speakers are quickly becoming a popular way to listen to live radio, podcasts and music. From a standing start in a few years ago 4% of live radio listening is now done with a voice activated speaker.
Smart speakers don't have many buttons and requests to hear radio stations, podcasts and music are made by speaking to the device. You start by saying "OK Google" or "Alexa" and then your request. For example, to hear Radio 4 you might say "OK Google, play Radio 4".
Amazon launched the Echo smart speaker in the UK in 2016 and was soon followed by Google's Home speaker in 2017. Apple released the HomePod speaker in 2018.
Devices like Google Home and Amazon Echo can perform all sorts of actions, but here we'll concentrate on listening to radio, podcasts and music.
Listening with a Google Home speaker
Google Home devices come with the ability to play live radio stations, listen to podcasts and stream music. The apps are ready as soon as the device is set up. You can start a command with "OK Google" and ask for the audio you would like to hear.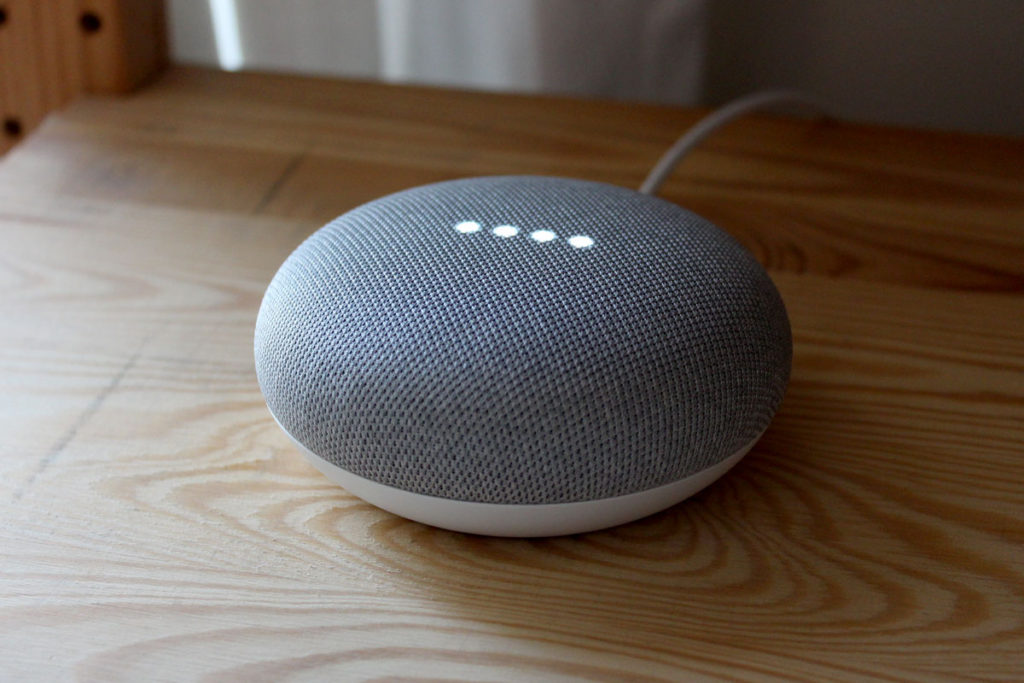 Live radio is started with a phrase like "OK Google, play Radio 2". The speaker will confirm the command and start streaming the station. The speaker uses TuneIn for live radio.
Podcasts are played with a command like "OK Google, play Stuff You Should Know". The podcast can be paused, played and stopped with a request like "OK Google, pause". Episodes can be chosen by asking for the next episode or the previous episode.
Music can be streamed from a chosen provider. If you don't have a subscription to a music service you can still upload your own music to Google Play Music. If a requested song isn't in your library Google Home will play similar songs. Sometimes you will hear the artist you asked for, but the playlist could just contain songs of the same genre. This works quite well when you just want to hear a genre like disco music.
If you have a subscription to a music streaming service like Spotify you'll hear the song or artist you requested.
The volume for all audio can be adjusted by saying "OK Google, turn it up" or by asking for a specific volume. For example, "OK Google, set volume to 10%".
Listening with an Amazon Echo speaker
Amazon Echo speakers can play live radio, podcasts and streaming music. Echo speakers have thousands of skills which add capabilities to the speaker, such as checking train times or ordering pizza. Ask the speaker to play audio by saying "Alexa" and then the station, podcast or music you'd like to listen to.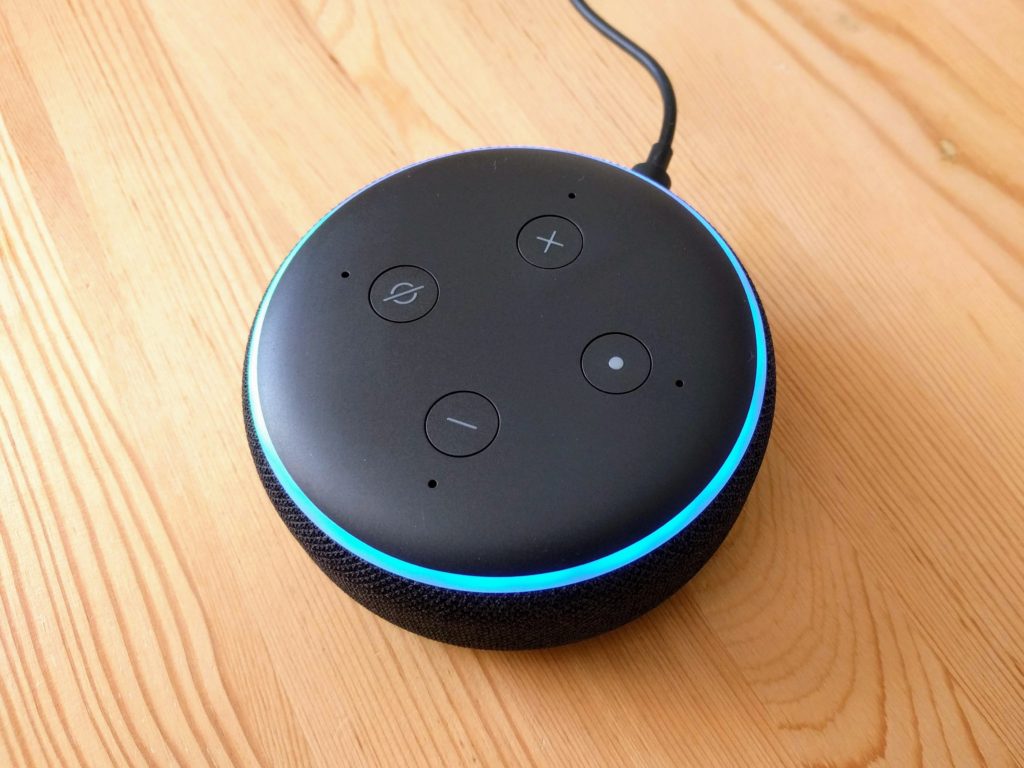 Live radio stations are played with TuneIn. Say "Alexa, play Classic FM".
Podcasts are heard by asking for a podcast by name: "Alexa, play the Start the Week podcast". Podcasts other than the latest episode are found in the Alexa app, under Music and then TuneIn. Other podcast skills have more voice control options, such as AnyPod.
Music from your Amazon Music library is available as soon as you have registered the speaker in your account. If you already use Spotify or Apple Music you can enable the service on your speaker and login to the account. Amazon has its own subscription streaming service too. Once setup you can say "Alexa, play Steely Dan on Spotify" or "Alexa, play disco on Spotify". Commands like "pause", "mute", "resume" and "stop" can be given too.
Volume can be increased or decreased with "Alexa, turn up/down the volume". You can ask Alexa to set the volume to a specific level with "Alexa, set volume to 2". A useful command for silencing Alexa is "Alexa, mute". This will allow audio to continue until you ask Alexa to unmute.
Alexa is Amazon's voice assistant on the Echo range of speakers. The smallest Echo Dot costs £49.99 while the Echo Show with its HD screen is priced at £219.99.
Buy a new DAB radio or a smart speaker?
Taking into account the benefits of a smart speaker, is it still worth buying a DAB digital radio?
Smart speakers are definitely not for everyone. Some people won't like speaking out loud at an inanimate object. Others will not want a device that's listening out for commands in their home. The speaker will need mains power and internet access to listen to any stations. Smart speakers take longer to switch on than a radio. They're also subject to software updates and can suffer from outages, as happened to Alexa in 2018. If you're not interested in having a smart home the speaker might offer little more than a normal radio.
But if you do have a smart thermostat or Internet connected plug sockets a smart speaker could make sense. The smaller versions of smart speakers, like the and Amazon Echo Dot, are cheaper than an Internet radio. Voice-activated speakers could also be helpful to visually impaired people. It could be quicker to ask Alexa to play a radio station or podcast than it would be with a radio.
Radios with Internet and DAB
If a DAB digital radio would always stay in the same place where there's mains power and good WiFi coverage, a smart speaker could be worth considering. For a similar price you'd be able to enjoy more stations, podcasts and stream your music collection.
A DAB digital radio has the advantage of being more portable and having tactile buttons and a display. Problems with DAB transmissions can occur but are very rare. If your Internet went down due to a bad phone line or broken router you'd still be able to listen to news, sport commentary and music on DAB or FM.
You could consider an Internet radio with DAB digital radio built-in. These versatile radios often include FM reception and Bluetooth. The Roberts Stream 94i also has Spotify Connect and access to thousands of online radio stations and podcasts.
Other voice-activated speaker options
The Amazon Alexa and Google Home smart speaker ranges are probably the most well-known.
Digital radio brand Pure have announced the DiscovR smart speaker. Pure have tackled some of the disadvantages mentioned above with a microphone which is physically connected rather than muted for privacy. Fifteen hours of battery life also makes the device more portable.
Sonos is already well known for its wireless speakers. The Sonos app controls the speakers in the range, but the Sonos One also comes with Amazon Alexa. Another Sonos One speaker can be used to create a stereo pair.
Unlike Google's devices and those with Amazon Alexa, the Apple HomePod does not provide a wide range of radio stations when using voice activation. Live and on-demand content from the BBC is available, but only through the BBC Sounds app and AirPlay.