Sky is the most popular pay-TV provider and satellite service in the UK. Although best known for its range of television channels, it's possible to listen to digital radio with Sky. There are more than 50 digital radio stations on the service.
Sky users can already access the full range of radio channels through their Sky digibox, regardless of receiver type and subscription. Freesat from Sky users can also access the same line-up of channels.
Listening to radio on Sky
Radio channels on Sky can be accessed through the TV guide or directly with a channel number.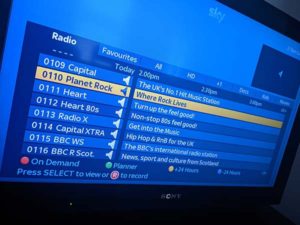 To listen to radio through TV Guide, press the tv guide button on the top of the remote control. Press select to enter the TV Guide, then the left button twice to see the list of radio channels. Press the down button to scroll through the radio channels, then select to listen to the chosen radio station.
Alternatively from any TV or radio channel you can enter the number of a radio channel, if you know it. We've compiled a full list below.
Unlike DAB digital radio there isn't scrolling text with additional information, such as the name of the currently playing song or the next programme. General information about the current on-air programme or station is shown.
The audio quality of radio channels on Sky is very good. Older Sky receivers have analogue RCA (phono) out connections so that an amplifier or hifi system can be used to listen to radio channels with the television switched off. Newer Sky+HD receivers and Sky Q boxes have an optical audio output.
Freesat from Sky
Freesat from Sky is a digital television platform which uses Sky set-top boxes to receive free television and radio channels. The service can be purchased for £254 including installation, or a viewing card can be purchased for £25 if equipment is already installed.
As all digital radio stations on Sky are 'free to air', i.e. available for free without a subscription, the line-up of radio channels is the same as with a Sky subscription.
There are more radio channels on Freesat from Sky than Freesat or Freeview.
Digital radio channels on Sky
Around 50 digital radio stations are available on Sky and Freesat from Sky.
All of the BBC's national and regional services are available, but not the BBC local radio stations. Popular radio stations including Heart, Capital, Kiss, Magic and Radio X are available in addition to digital only Planet Rock, Absolute 80s and Jazz FM.
Some of the newest national radio stations, such as talkRADIO and Mellow Magic, are not currently available via satellite. Scala Radio was previously available as a radio station on Sky but has been replaced by Greatest Hits Radio.
| Number | EPG Name | Radio Station Name |
| --- | --- | --- |
| 0101 | BBC R1 | BBC Radio 1 |
| 0102 | BBC R2 | BBC Radio 2 |
| 0103 | BBC R3 | BBC Radio 3 |
| 0104 | BBC R4 FM | BBC Radio 4 (FM) |
| 0105 | BBC R5L | BBC Radio 5 live |
| 0106 | Classic FM | Classic FM |
| 0107 | Absolute | Absolute Radio |
| 0108 | talkSPORT | talkSPORT |
| 0109 | Capital | Capital |
| 0110 | Planet Rock | Planet Rock |
| 0111 | Heart | Heart |
| 0112 | Heart 80s | Heart 80s |
| 0113 | Radio X | Radio X |
| 0114 | Capital XTRA | Capital XTRA |
| 0115 | BBC WS | BBC World Service |
| 0116 | BBC R Scot. | BBC Radio Scotland |
| 0117 | BBC R Wales | BBC Radio Wales |
| 0118 | BBC R Ulster | BBC Radio Ulster |
| 0119 | BBC Asian | BBC Asian Network |
| 0120 | BBC 6 Music | BBC Radio 6 Music |
| 0121 | Gold | Gold |
| 0122 | WRN Europe | WRN Europe |
| 0123 | LBC | LBC |
| 0124 | Smooth | Smooth Radio |
| 0125 | Panjab Radio | Panjab Radio |
| 0126 | BBC R4 Ex | BBC Radio 4 Extra |
| 0127 | BBC R1X | BBC Radio 1Xtra |
| 0128 | TWR | Trans World Radio |
| 0129 | BBC R n Gael | BBC Radio nan Gàidheal |
| 0130 | BBC R4 LW | BBC Radio 4 (LW) |
| 0131 | BBC R5SX | BBC Radio 5 live sports extra |
| 0132 | Heart Dance | Heart Dance |
| 0133 | Sukh Sagar | Sukh Sagar Radio |
| 0134 | Khushkhabri | Radio Khushkhabri |
| 0136 | BBC R Cymru | BBC Radio Cymru |
| 0137 | RTÉ Radio 1 | RTÉ Radio 1 |
| 0138 | RTÉ 2FM | RTÉ 2FM |
| 0139 | RTE Lyric fm | RTÉ lyric fm |
| 0140 | RTE R na G | RTÉ Raidió na Gaeltachta |
| 0141 | Kiss | Kiss |
| 0142 | Magic | Magic |
| 0143 | Hits Radio | Hits Radio |
| 0144 | Absolute 80s | Absolute 80s |
| 0145 | Absolute 90s | Absolute Radio 90s |
| 0146 | Jazz FM | Jazz FM |
| 0147 | EWTN Catholic | EWTN Catholic |
| 0148 | Classic Rock | Absolute Classic Rock |
| 0149 | BFBS Radio | BFBS Radio |
| 0150 | Virgin Radio | Virgin Radio |
| 0151 | Greatest Hits | Greatest Hits Radio |
| 0152 | Heart 90s | Heart 90s |
| 0153 | BBC Cymru 2 | BBC Radio Cymru 2 |
| 0154 | BBC R Foyle | BBC Radio Foyle |
| 0155 | LBC News | LBC News |