This month we've received questions about DAB+, upgrading digital radios and listening online.
We have similar questions and answers in our Questions section and take a look at the questions below to add some extra details.
Thank you to everyone who has asked a question.
Receiving Gold in Norfolk
I used to receive Gold radio on DAB. How can I listen to to it again? I live in Norwich, Norfolk.
– Richard
Digital radio station Gold is broadcast on DAB+ across the UK. The radio station switched from local transmitters to national transmitters in 2019.
According to a digital radio coverage checker you should still receive Gold in Norwich. You may need to perform a re-scan or auto-tune with your digital radio to find the new national version of the station.
If your radio doesn't find Gold, or the station is listed but has no sound, it could be that your radio can't receive DAB+ radio stations. This is a different format to the original DAB which Gold used in Norfolk in the past.
You can read more about reception of Gold on this answer.
Can my Makita DAB radio be upgraded?
Can my Makita DMR109W DAB radio be upgraded to DAB+?
– Danny
Unfortunately this Makita radio cannot be upgraded for DAB+ reception. This is due to the hardware inside the radio which would be incompatible with DAB+ rather than simply the software.
Some digital radios can be upgraded for DAB+ reception, such as a number of models made by Pure. Being able to upgrade a radio depends on the hardware being suitable for DAB+ and having a USB socket for connection to a computer.
Makita does offer some job sites radios which can receive DAB and DAB+ radio stations. A similar model to the DMR109W is the DMR110W.
There are still some radios on sale which receive DAB and not DAB+ so it is always worth double-checking before purchasing a radio.
How can I get a DAB station other than Absolute Radio?
How can I get DAB radio stations other than Absolute Radio on my Panasonic DM504?
– Christopher
The Panasonic DM504 should be capable of receiving a range of DAB and DAB+ radio stations. Due to the way that digital radio stations are broadcast if you can receive Absolute Radio you should also receive several other stations.
Ensure the radio is in the digital radio mode by pressing the 'Select' button until 'DAB+' is shown.
It is worth performing a re-scan to find all of the stations which are available. On the remote control press 'Play Menu' then 'OK' to select 'AUTO SCAN'. When 'Start' flashes press the OK button again. If no stations could be found 'SCAN FAILED' will be displayed.
To browse the stations that the radio has found press the 'Play Menu' repeatedly to select 'TUNE MODE'. Use the up and down buttons to select 'STATION' then press the OK button. Now use the left and right buttons to choose a different station.
Why is the screen on my Bose car radio really dim?
I just bought a 2008 Hummer H3 and it has a FM/AM SiriusXM radio in it by Bose, I can not see what is on the screen, it is really dim. Can you help please?
– Kevin
If the display is very dim there could be a problem with the backlight. Bose do not offer parts or service directly for their factory installed radios and recommend contacting a dealer for the vehicle brand. It could be worth contacting a GMC dealer to see if any service options are available.
Alternatively an independent car audio repairer may be able to help. There may be a service online or a local car audio installer could recommend a repair shop. Unfortunately as we are based in the UK we're not able to recommend a company which could help with a SiriusXM radio.
Can DAB+ radios receive older DAB signals?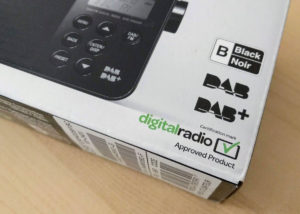 Can a new DAB+ receiver receive the older DAB signals?
– Kavindra
Yes, DAB+ radios will normally receive DAB radio stations too. We are currently reviewing a radio which is described as a "DAB+ Radio" and doesn't mention the older DAB standard, but it does receive both DAB and DAB+ stations.
To be certain a radio will receive both DAB and DAB+ radio stations always look for the Digital Radio Tick Mark. This indicates that the radio is capable of FM, DAB and DAB+ reception.
Can my Sony Micro Hi-Fi Component System be upgraded to DAB+?
Can my Sony Micro HI-FI Component System CMT-CPZ1DAB be upgraded to DAB+ status, OR is it obsolete?
– Charles
Unfortunately it does not appear possible to upgrade this Sony system for DAB+ reception. According to Sony's support website the system was manufactured in the mid-2000s. This would be at around the same time as DAB+ was announced.
While the system is likely to receive DAB stations for some years to come, it will not receive current and new DAB+ radio stations.
There may be an 'Analog In' connection on the front of the system. This could be used to connect another device to the Hi-Fi – such as a Amazon Echo Dot (from £34.99) smart speaker. A 3.5mm to 3.5mm lead would be required. These smart speakers have access to thousands of radio stations over the Internet, including those which are available on DAB+ in the UK. These devices use voice commands to select stations. Some services have their own Alexa skill while others can be chosen through another skill like TuneIn.
Amazon also offers the cheaper Echo Flex which may be suitable, but this plugs directly into a plug socket. If your Hi-Fi plugs into the wall behind a cupboard this may not be suitable.
If buying a new Hi-Fi system it is worth looking for the Digital Radio Tick Mark to confirm that the stereo can receive DAB, DAB+ and FM stations. It's also worth looking for a stereo with an auxiliary audio input so that any devices can be connected in the future – such as an Internet radio device, tablet or smartphone.