During May we have received questions about tuning into BBC Radio Ulster, upgrading a Pure radio for DAB+ reception and receiving digital stations from Europe.
We have also answered a question about reception issues with a windscreen antenna and Sony DAB car stereo.
Thank you to everyone who has sent a question during May.
How can I hear Radio Ulster without medium wave?
I am looking for some advice for my elderly parents. Medium wave radio has stopped in Northern Ireland. Can you advise of a device I can purchase for them to hear radio? There is Wi-Fi in the house. They mostly listen to Radio Ulster.
– Ian
BBC Radio Ulster ceased broadcasting on medium wave in May this year. It's now available on FM and DAB in Northern Ireland. The station is also available on Freeview (in Northern Ireland only), on Sky (in the UK only), Virgin Media and Freesat.
If your parents live within the coverage area of BBC Radio Ulster a DAB digital radio might be the best option. You can check reception with a coverage checker by entering a post code. DAB digital radios can be purchased for as little as £20 but we would recommend one like the Roberts Play 10. This radio has a large, clear display and preset buttons for around £40.
Other DAB radios like the Sony XDR-S61D and Panasonic RF-D30BT have large controls, clear displays and preset buttons.
You mentioned that Wi-Fi is available. The Pure Elan Connect is an affordable radio which can receive Internet radio stations. For stereo sound and more output power you could consider the John Lewis Octave and Roberts Stream 94i. These three radios have similar colour displays and interfaces. The text can be quite small so if you have an opportunity to look at and possibly try the John Lewis and Roberts radios in person at a John Lewis branch it may be worth while.
On our Internet connected device BBC Radio Ulster can be heard by going to the Internet radio mode and then browsing for stations. After selecting UK and then BBC it's possible to scroll down to BBC Radio Ulster. It is often possible to save Internet stations as presets to make tuning quicker and easier.
I recently upgraded my Pure radio to DAB+ but cannot tune into some stations
I recently upgraded a Pure Evoke 1S to DAB+ wishing (mainly) to listen to talkRADIO and Radio Manchester. Before the upgrade I could see talkRADIO but could not of course tune in. Now upgraded I cannot even see talkRADIO. Same goes for Radio Manchester. The only plus is I can now tune into LBC News!

Is there any information on fixing these sort of problems?
– Wilber
You mention being able to receive LBC News, a DAB+ radio station, so it appears that the DAB+ upgrade has worked.
The radio not finding talkRADIO (a DAB+ station) and BBC Radio Manchester (a DAB station) could be due to the signal not being strong enough. The telescopic aerial does not appear to have an F-type connector but there may be a screw at the bottom of the antenna on the back of the radio. It might be worth checking that this hasn't come loose.
You could try tuning into a station and then switching the display to show the signal strength and quality. Press the 'Info' button until you see the signal strength and try moving the radio or adjusting the aerial. When this appears to be as high as it will go you could check the signal quality too. According to the manual a signal quality reading of 85 to 100 is considered good.
Then you could try scanning for stations again. Moving the radio to scan stations can make a difference too. We have seen a DAB radio only find all of the available stations while it was in a garage. Once moved back to the kitchen it continued to receive the stations with good signal strength and quality on the display.
Something else to check would be that the radio isn't being affected by interference. If you have LED lights and last found BBC Radio Manchester when the lights were off, but then re-tuned the radio with the lights switched on, it could be that interference has affected reception of weaker signals.
We have seen some DAB radios and tuners only able to store 100 stations in the station list. If you can receive all of the national, local and small-scale DAB stations in Manchester the list may exceed 100. However, we're not aware of this affecting the Evoke 1S.
Am I able to receive Danish DAB stations due to the recent weather?
Over the past few days (hot days) I've been receiving about 10 Danish DAB radio stations, as well as many other stations not usually available in my area. I'm assuming that this is due to tropospheric propagation – a phenomenon brought about by certain weather conditions? I am familiar with this phenomenon in VHF/SHF but never associated it with frequencies higher than this. I'm assuming that I'm correct in my assumption?
– Paul
Yes, during the end of May and beginning of June it has been possible to receive DAB digital radio stations from further afield. As you say, this is due to tropospheric propagation. When the weather conditions are just right it is possible to receive stations from elsewhere in the UK or Europe.
In another answer we mentioned that we had received DAB radio stations from the Netherlands on a normal car radio here in the north east of England.
A few days ago we were able to receive YorkMix Radio from North Yorkshire and BBC Radio Leeds on DAB with good signal strength. A few hours later the stations were completely unavailable.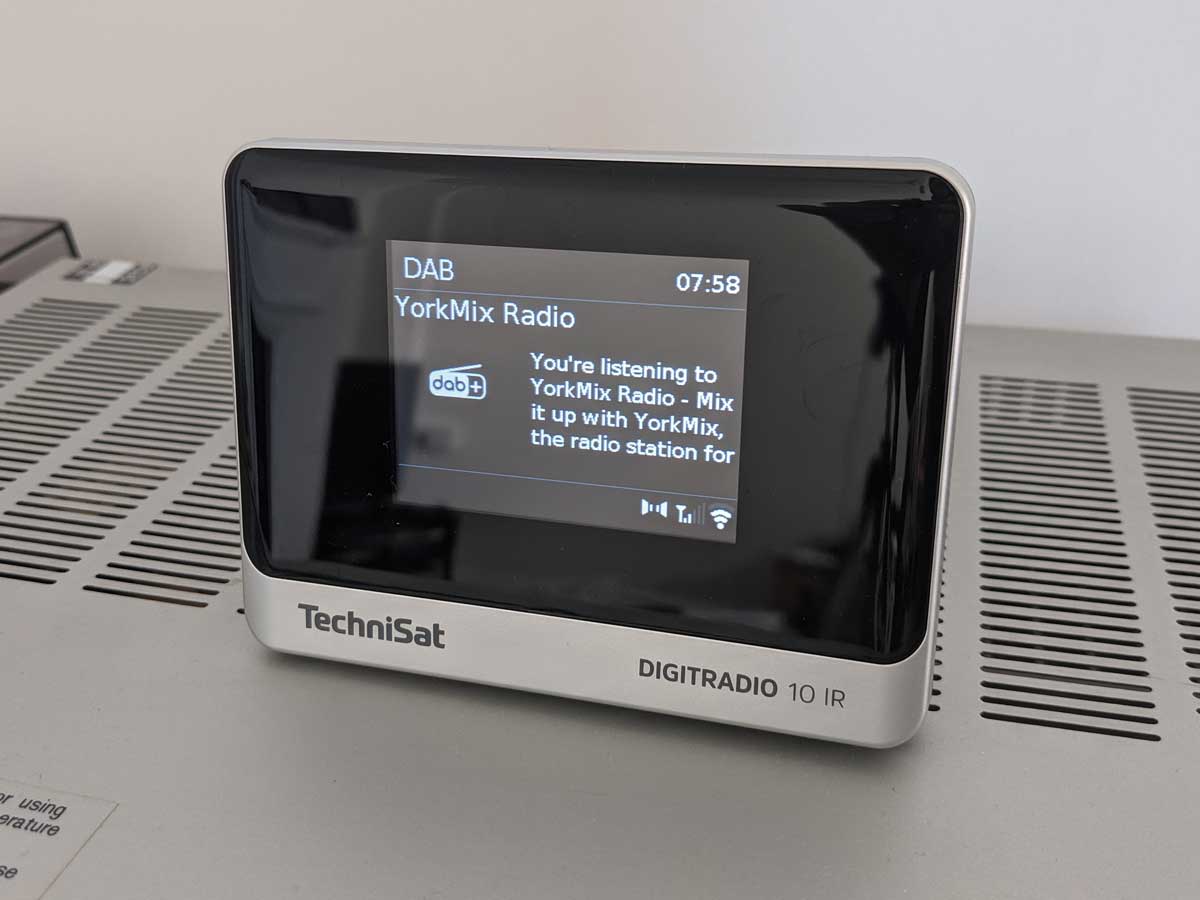 If you're interested in receiving more radio stations during these conditions you could check this tropospheric ducting forecast. Members on the Skywaves DX forum often post alerts and report on reception of stations.