The TechniSat DIGITRADIO 10 IR receives DAB/DAB+, FM and Internet radio stations and has Bluetooth for wireless music streaming. It plugs into an amplifier or hi-fi system rather than having speakers of its own, just like a hi-fi tuner.
It comes in black and silver which means it doesn't look out of place with most hi-fi equipment. Like the DIGITRADIO 1 portable radio it's made in Germany. The device is currently available in the UK via Amazon.de, so it does come with a Europlug and German instructions. In our review we'll set it up and try the various radio modes and Bluetooth features.
Dedicated DAB digital radio tuners and Internet radio devices seem to be getting rare nowadays. Typical options are a Bluetooth adapter which needs a smartphone or tablet. Another is a pricey wireless streaming hi-fi separate, so there does seem to be a gap for a device like this.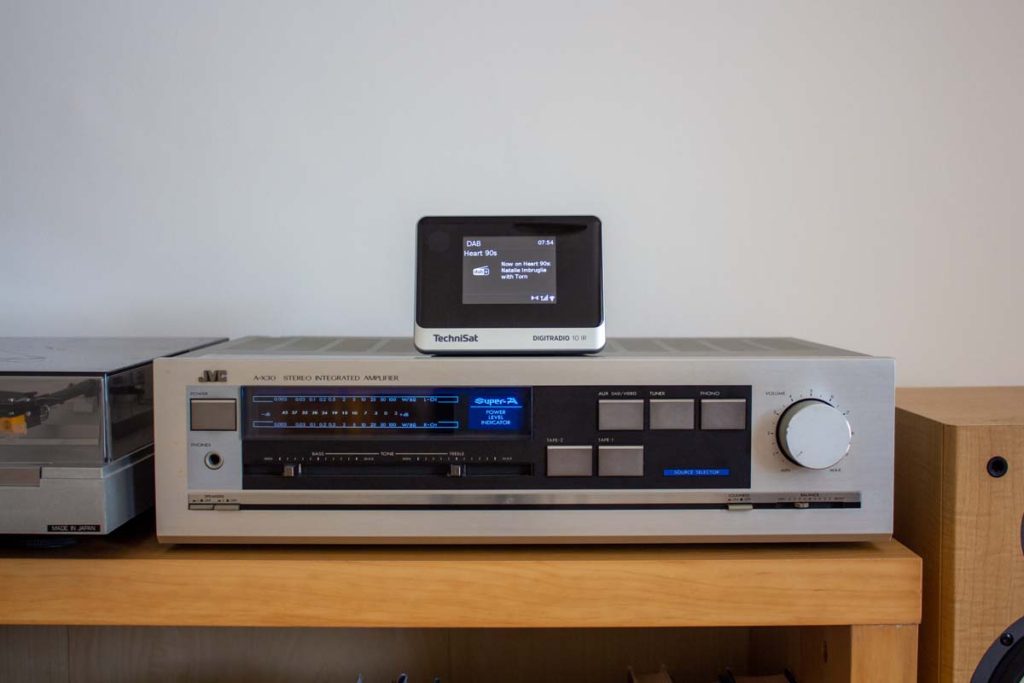 According to a recent Ofcom report smart speakers are now owned by 50% of UK adults. Over a quarter of those listening to live radio are using a smart speaker, but DAB is still the most popular way of listening to radio. For those who don't want to use a voice activated speaker a standalone device like the DIGITRADIO 10 IR could be suitable.
There are a few versions of the DIGITRADIO 10. Be sure to choose the DIGITRADIO 10 IR for the Internet radio version reviewed here.
Setting up the TechniSat DIGITRADIO 10 IR
The device comes with everything that's needed to start using the receiver, as long as the hi-fi has a stereo RCA input. The power adapter is the two pin Europlug type so you may need a travel-type adapter. If the hi-fi has a 3.5mm or optical input you could buy the appropriate cable.
In the box is the DIGITRADIO 10 IR itself, a stereo RCA lead, remote control, wire antenna, USB lead and USB power adapter. A comprehensive instruction manual is included in German. A version of the manual in English is available as a PDF from the TechniSat website.
This is quite comprehensive and the English version is easy to follow.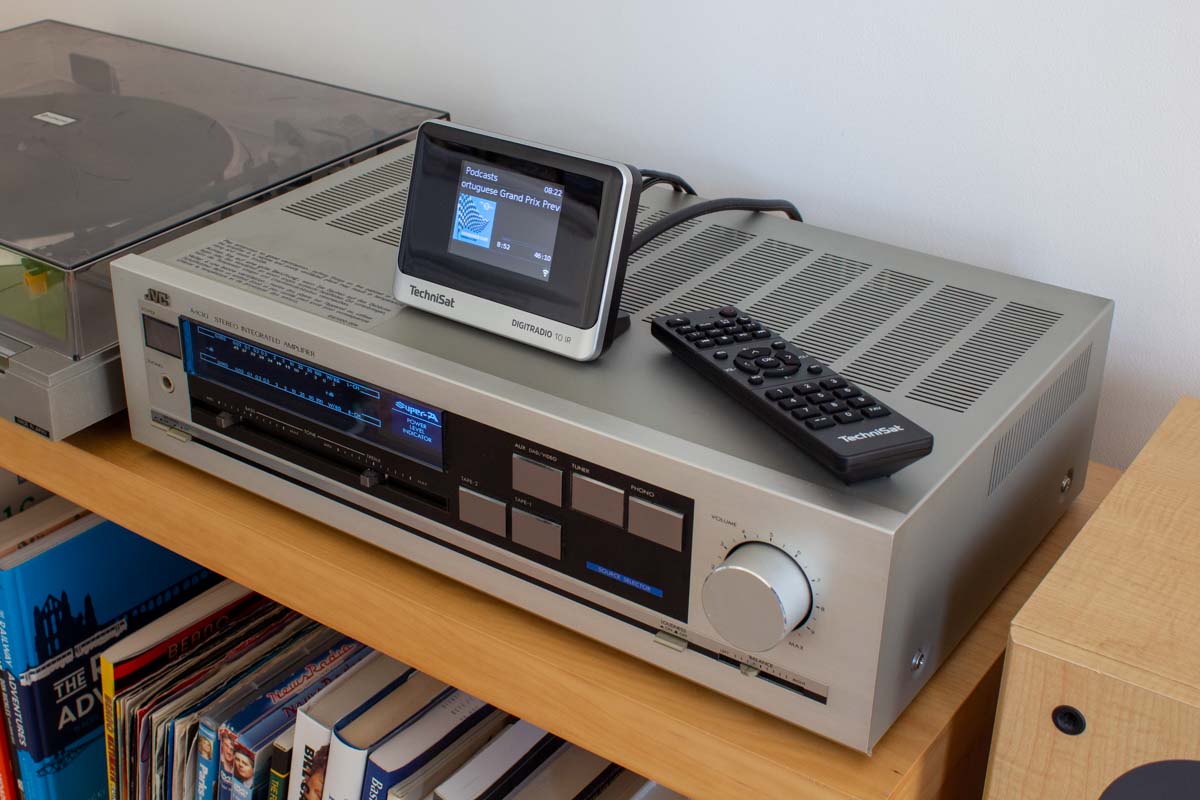 When the device is switched on for the first time the initial setup wizard starts. This helps set the language, time (and where to update the time from) and whether to remain connected to the Internet in standby mode. With this option switched on the device is quicker to tune into a station from standby, but with increased power consumption. The next settings are for the Wi-Fi connection.
On the front of the receiver is a 2.4 inch colour display with a 240 x 320 resolution. Connections are made on the rear of the device. There aren't any buttons on the device itself so the remote control is always used.
The set up process is quite simple and we experienced no issues with the Internet connection. When the DAB mode is used for the first time it'll scan for stations, but like other digital radios a scan can be initiated at any time. Compared to many Internet connected devices it was nice not to need a smartphone or computer for the setup.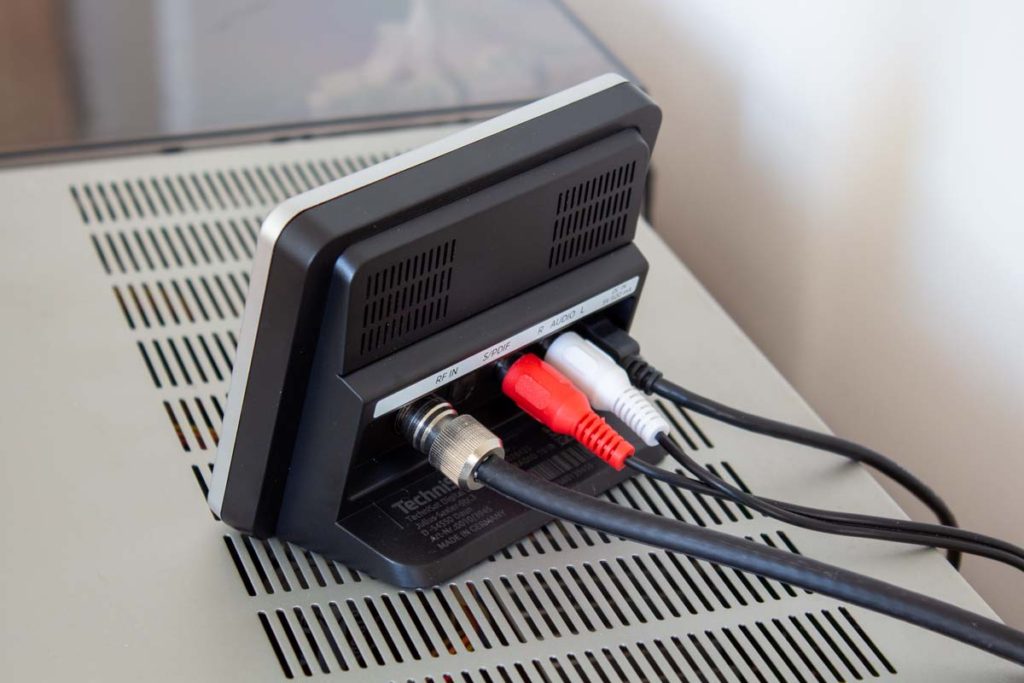 Support and warranty information come with the instructions. We have not needed to test how this would work should there be a fault with the device. It may be prudent to check how the device could be returned or technical support would be accessed if you are outside of Germany.
User interface
The DAB, FM, Internet radio, Bluetooth, Spotify Connect and Podcast modes are toggled through with the remote control. The modes switch quickly with DAB and FM radio stations tuning in promptly. The length of time it takes for an Internet station to start depends on the stream but it can be fairly quick.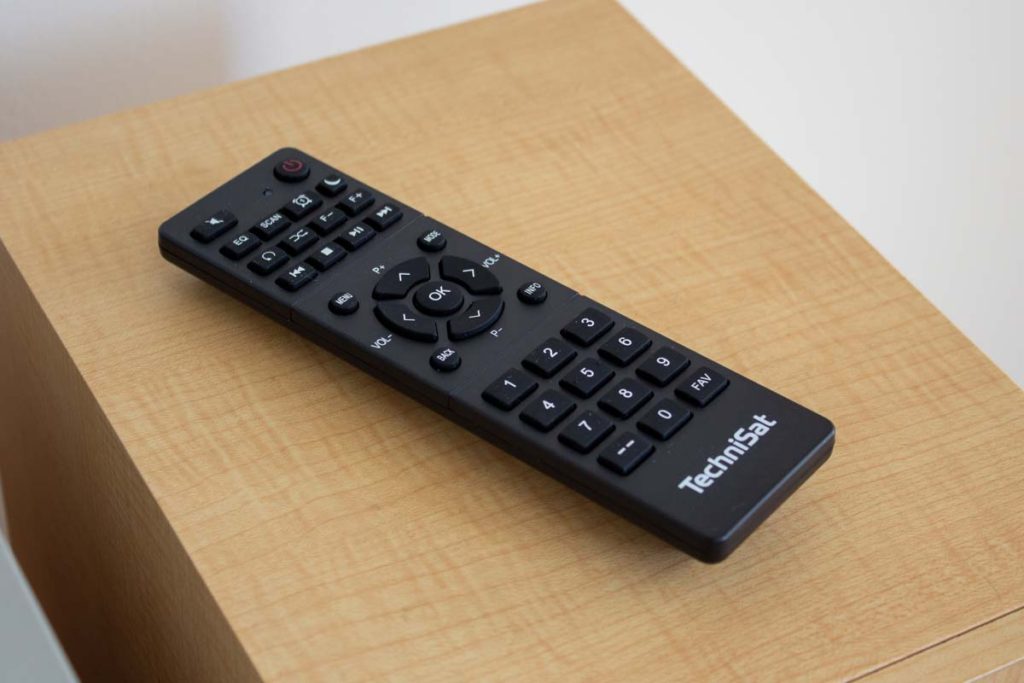 Browsing the list of DAB digital radio stations and scanning the FM band was fairly typical of modern digital radios. Tuning into Internet radio stations takes a bit longer with the need to browse a directory or search by name. It's easy to discover stations with many countries and genres listed. If you have favourite stations it's definitely worth saving them as presets though.
Podcasts can be browsed and played in the podcast mode but the experience isn't as polished. Podcasts resumed from the beginning after leaving the podcast mode which could be inconvenient with longer episodes. Discovering podcasts is fairly easy but there's no way to subscribe. It might be better to use a podcast app and the Bluetooth mode, but it works in a pinch.
If you've used a digital radio with a 2.4″ display before the interface might feel familiar. The display is clear, bright and easy to read. In standby mode the screen shows the date and time.
Presets can be saved in each of the radio modes, but you'll need to switch to the correct mode (e.g. DAB) before choosing the preset. Up to 30 presets can be saved in each radio mode. These can be recalled with the number on the remote or by pressing the favourites button.
Sleep timers and alarms can be set with dedicated buttons on the remote control. The sleep timer has increments of 5, 10, 15, 30, 60 and 90 minutes. Two alarms can be set with options for the time, day (daily, weekday or weekend) and the source, such as DAB or Internet radio.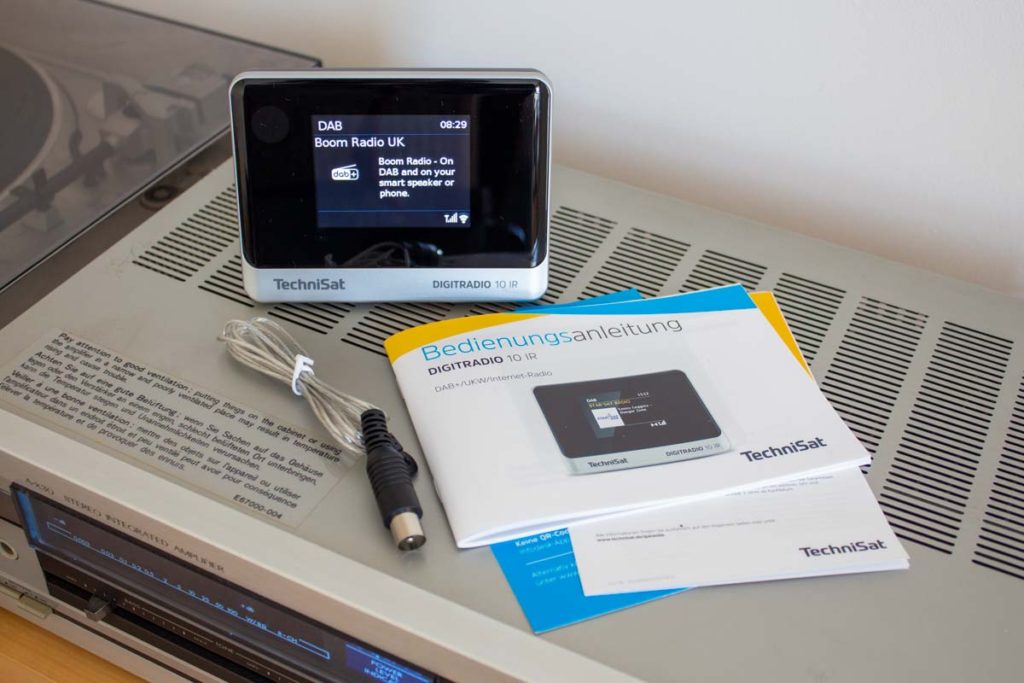 Reception of DAB and FM radio stations was very good with the external aerials installed in a loft. The signal strength shown on the device wasn't quite as good with the included wire antenna. Reception of DAB stations was reasonable though. This was in common with other hi-fi equipment we have tried with this type of antenna in the same place.
There were no problems with Wi-Fi for online radio stations and podcasts. Bluetooth connectivity was also fine.
The remote control feels good in the hand with clicky, rubber buttons. The device responds quickly to button presses and helps the DIGITRADIO 10 IR feel snappy.
Sound quality
How radio stations and music sound with the TechniSat DIGITRADIO 10 IR could depend on the source (e.g. the quality of the radio stream or music). The connected equipment, such as a micro hi-fi, can also make a difference. We are testing the receiver with a JVC A-X30 stereo amplifier and Tannoy Mercury MX3 floorstanding speakers.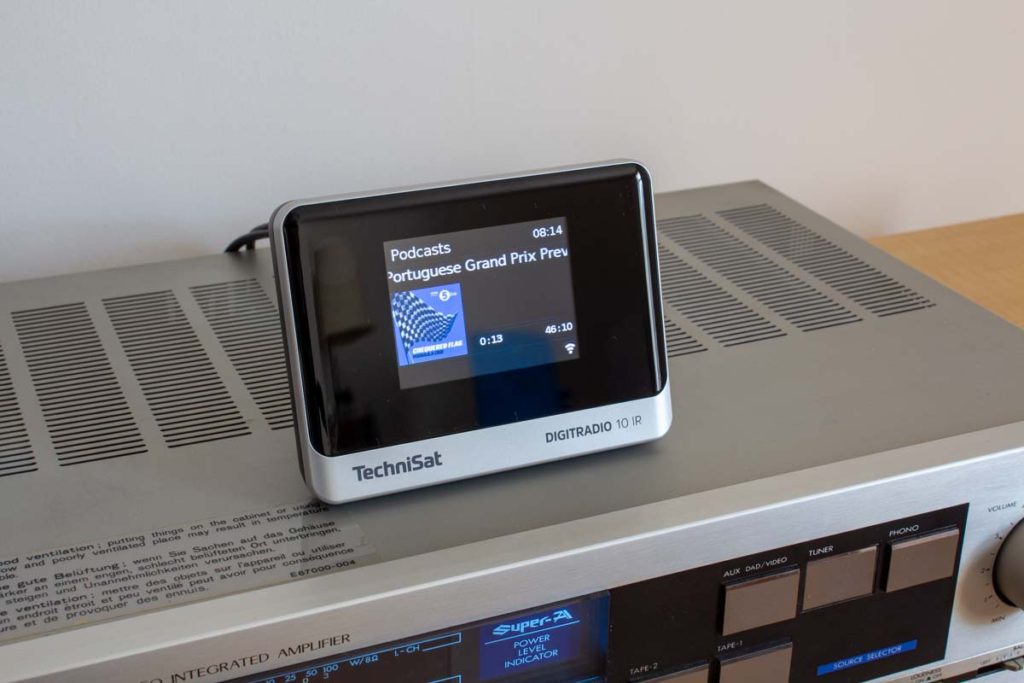 Radio stations on DAB, DAB+ and FM all sounded fine. Digital stations with even the lowest bitrates sounded surprisingly reasonable when compared to listening with portable DAB radios. As Internet radio is available in the device it might be better to listen to the equivalent high quality streams in stereo for stations like Magic Soul and Absolute Classic Rock.
Music played over Bluetooth came across as clean and without any interference. An annoying background buzz sometimes afflicts DAB radios with Bluetooth.
Dedicated network music players and wireless streamers may be better for serious music listening. Some of those devices support network playback, which the DIGITRADIO 10 IR does not.
In our experience with the device and an old hi-fi amplifier and speakers it was difficult to quibble with a system which cost around £150 in all.
TechniSat DIGITRADIO 10 IR Verdict
The TechniSat DIGITRADIO 10 IR is a great addition to any hi-fi setup. It's especially useful if your hi-fi has a single aux input and you'd like digital and Internet radio as well as Bluetooth.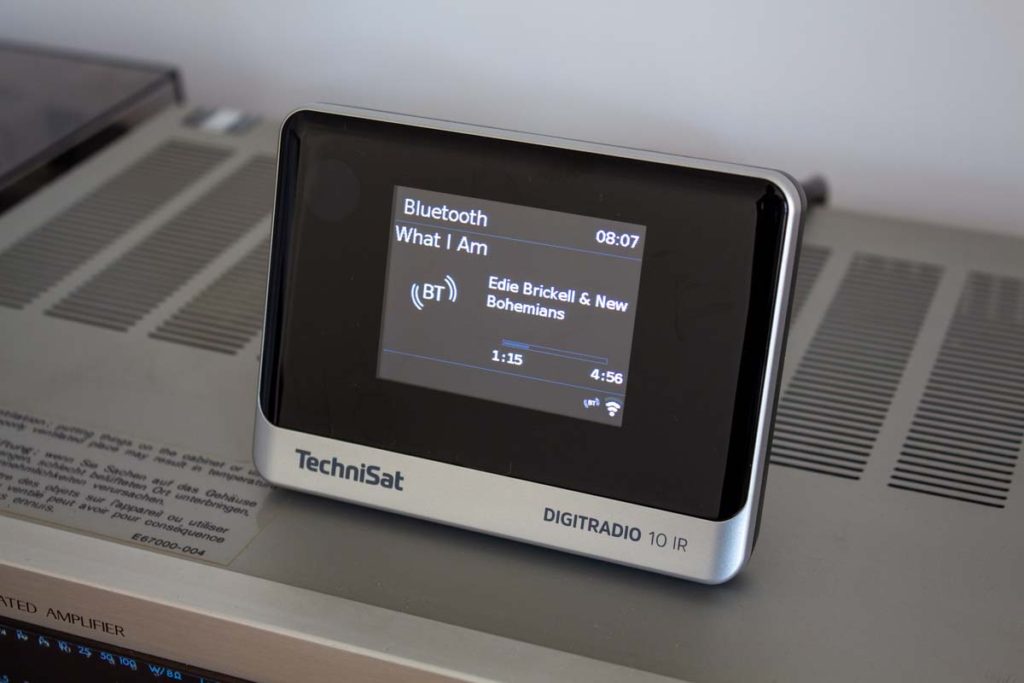 Radio reception is very good in all modes and the sound was fine for a sub-£100 device with this many features. The remote control is easy to use, the display is clear and the interface is fast. It would have been good to see a wired network connection and the ability to stream music straight from a home media server. Sometimes it was difficult to establish a Bluetooth connection with a smartphone. During several weeks of testing it did restart once.
There are few alternatives at this price point. We paid around £85 after converting from Euros to GBP including postage and VAT.
Overall the device has been a pleasure to use. If you're in the UK and don't mind using a Europlug adapter and a PDF manual it is definitely worth considering.