A new aftermarket car stereo with DAB/DAB+ and Spotify has been released by manufacturer Kenwood. The Kenwood DDX4018DAB features a 6.2″ LCD screen, Bluetooth connectivity, DAB/DAB+ reception and is Spotify ready.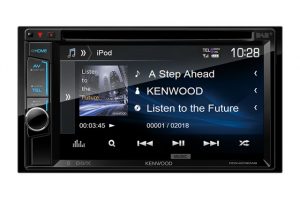 Direct control of Spotify makes it possible to control and browse the music streaming app through the display or voice controls. Once an Android smartphone or iPhone is connected users can listen to artists, albums, songs and playlists.
An 'easy-search' system for DAB/DAB+ digital radio stations makes finding favourite stations quicker with an A-Z list of services. Holding a search button will update the list of available services.
Analogue stations on FM, AM and LW can also be accessed on the radio with presets available in each mode.
Bluetooth connectivity provides hands-free calling with fulltime connection for two phones. This is useful if a car is often shared or for work and personal mobiles. Bluetooth audio streaming with AVRCP 1.5 allows music browsing with the touch screen or voice activation. Up to five mobile phones can be paired with the DDX4018DAB for streaming of music, internet radio or podcasts.
Traditional iPhone/iPod and Android connectivity and charging is also included via a USB lead.
The Kenwood head unit comes with 4 x 50W Max output Power and 3 High-voltage (4.0V) Preouts. Music can also be played via the USB port with MP3, AAC, WMA, WAV and FLAC file formats supported.
Double-DIN car radios can be installed as a replacement for an existing aftermarket model or to replace a factory-fit radio. Additional parts are often required, such as cables and a fascia surround to match the car's dashboard. Replacing a factory-fit car radio avoids some of the disadvantages of an adapter, such as using the 12V socket, but can be more complex to install.
The Kenwood DDX4018DAB will be available for around £300.