New radio station Heart 90s has launched across the UK on DAB digital radio.
Heart 90s joins existing spin-off stations Heart 80s and Heart dance, which launched in June. The new station is "dedicated to the greatest feel good anthems from the 90s".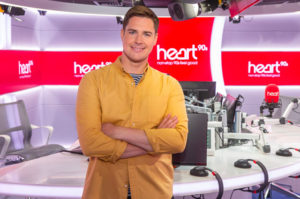 More new radio stations will be unveiled over the next week. The stations will be spin-offs or 'brand extensions' from existing Global radio stations, such as Smooth and Heart. Global is the media company which owns Heart.
A new weekday breakfast show will be hosted by Kevin Hughes from 6am to 10am. The radio and TV presenter currently hosts Saturday afternoons on Heart.
"The playlist is pure 90s feel good nostalgia and Heart 90s will celebrate the greatest hits from this iconic decade, which produced some of biggest feel-good records of all time," said James Rea, Managing Editor of Heart.
"It's a very exciting time for the nation's biggest commercial radio brand and we have yet more huge news coming tomorrow!"
The station's playlist will feature artists including Take That, Spice Girls, George Michael, Backstreet Boys and Britney Spears. The media company behind the station says the "huge playlist" will contain the "ultimate throwback anthems from the decade that produced some of the greatest records of all time".
Heart 90s is the second radio station to launch nationally which only plays music from the 1990s. Absolute 90s plays music from artists like Pulp, INXS, The Verve, R.E.M. and Nirvana.
The new station is available on the D1 multiplex, the Global player and Heart apps, on smart speakers and online.
Heart 90s, Heart 80s and Heart dance broadcast in the newer DAB+ format. Each station is broadcasting in stereo at 40kbps. Many new radios can receive DAB+ radio stations, but some older radios do not receive these stations.