"Welcome to the spoken world", Stitcher's website greets visitors. The app promises audio news, sports and entertainment, complete with exclusive content from users' favourite podcasts.
At a time when podcast and radio apps fight for top billing, solid user numbers and unique downloads, competition is stiff.
Stitcher, however, lets its users stitch together podcasts into a custom playlist, with over 100,000 to choose from and across a variety of platforms.
The app is free, but a premium version is also available. One of the more curious additions to its premium service are its 'scripted podcasts', with Richard Armitage playing Wolverine in a Marvel-Stitcher team up. It's a radio play, split into several chapters. It seems the term 'scripted podcast' is designed to engage with younger audiences.
Stitcher was founded in 2008 and regularly features in lists of the best podcast apps for Android. Let's see why.
Installing the app
Stitcher is available on iPhone, Android, tablet, PC, Amazon Echo and in your car.
For Android, the original operating system for which the app was developed, and the focus platform for this article, users can find it to download on the Play Store. For this review I will be using a Samsung Galaxy J5 2017 model.
Users can utilise home screen widgets and lock screen controls to customise their listening experience. Notifications can also be enabled for important episode alerts.
The app is about 13MB, contains ads and in-app purchases, and requires permissions once logged in (detailed later). Users then can choose to sign in with Facebook, Google, or sign up with an email address.
Finding a podcast you've heard of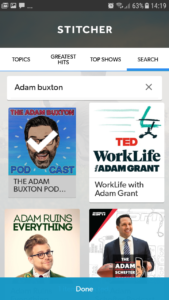 I choose to sign up with Google. Stitcher greets users with a simple interface, as seen here.
Using the search function, we can quickly locate a popular podcast, that of British comedian's Adam Buxton. The search took a few seconds to throw up results, so a little patience may be required.
Tapping on the image of the podcast selects it with a large white tick, while at the bottom of the page a 'Done' bar prompts selection. Intuitively, this is interchanged with 'x items selected', to remind the user.
Once selecting 'Done', the app gets to work, and asks for permission for Stitcher to access photos, media and files on my device.
I allow the permissions and the app takes me to the 'Front Page'. A clip titled 'Getting started with Stitcher' autoplays once the page has loaded.
The clip informs that I can listen to my "favourite radio shows and podcasts on demand", while the front page keeps me "up to date with new episodes from my favourites, the latest headlines and recommendations" based on my listening.
The app then provides a few suggestions based on my selections, amongst them 'I survived a mass shooting' and 'Internet fist fight'. I'm not sure what Adam Buxton has in common with these themes. Perhaps I need to familiarise myself with more of his work!
Discovering a podcast based on your interests
There's a few ways one can search for a show based on your interests and hobbies. By clicking the menu button in the top left one can browse shows, categorised as below.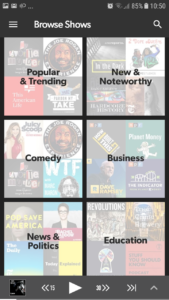 Once selected, most categories are split into two or three subsections, titled 'Top', 'Popular' and 'Featured'. There really isn't much comprehension or depth when browsing, except for the extensive number of categories.
I finally find what I'm looking for via the search function. Search results are split into two tabs, 'Episodes' and 'Shows'. Episodes aren't listed by date, but by the use of the search word(s).
I love a good ghost story. Paranormal UK Radio is run by a professional tour guide, who in his spare time records podcasts of varying length, full of rural lore and grisly tales.
A '+' icon allows me to add the podcast to my favourites playlist.
Day to day use
The more podcasts you subscribe to, stitching them together in your favourites playlist, the more attuned the 'Front Page' is in recommending stations.
When I click on 'My Stations' from the menu, I am presented with my playlists. In my favourites, I can select a download function, browse by shows and episodes, list in order of unheard, show name or a custom order, play all, edit the playlist and tinker with download settings.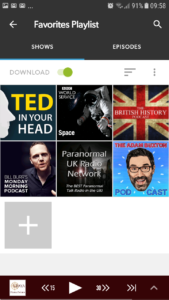 Editing simply allows me to delete selected podcasts. In the download settings I can toggle Wi-Fi downloading only, automatic downloads, set a storage limit from 1GB to 'MAX', whatever that means. I can also clear all downloads and change the storage location.
Users can save individual episodes too. A small list of commands appears upon selecting an individual episode, as shown below.
Users can read information about any podcast by selecting a small 'i' icon in the top right. In the 'Downloads' section I can see a list of the most recent podcasts from each of my favourites. These can be sorted in a plethora of ways.
Conclusion
Stitcher boasts a huge catalogue of podcasts, including the most popular chart toppers one would expect to find on such an app.
The app also houses amateur, discontinued podcasts of varying quality. It can take some time before finding quality recording and programming, particularly for more niche topics.
Stitcher's interface is simple, user-friendly and intuitive. The colour scheme is not jarring, the presentation neat and consolidated, the text easy to read.
There's plenty of options for customising playlists, saved episodes and downloads, which is Stitcher's strength. It makes the experience more personal.
Given that I have been using a free version, there have been no adverts in the space of several hours use, either visual or auditory.
Premium features 21,000 hours of premium content, including Stitcher originals, some bonus episodes and 300+ comedy albums. Early access to new releases and ad-free shows are also premium benefits. The cost is $4.99 monthly, which works out at about £3.85. An annual option is also available, shaving about two dollars off the cost per month. Users can opt into a free trial, either for a week or month, then will be moved onto the respective plan after.
Stitcher on Android is a safe bet for anyone new to podcasts. It is unobtrusive, functional and clean in its design. Unlike Spotify, which streams advertising at the user after every few tracks, Stitcher takes a back seat and lets the user explore.
If greater modern apps employed the same courtesy, they might compete more successfully with apps like Stitcher.