The i-box Barrel is a portable Bluetooth speaker with DAB/DAB+ and FM radio tuner. It also has an aux-in socket for listening to audio from an MP3 player and other devices without Bluetooth. The Barrel has a built-in rechargeable battery and is splash-proof with IPX4 water protection rating.
The Barrel is available in black with fabric wrapping around most of the device. On the side of the radio the telescopic antenna sits in a slight recess when not in use. A small, flexible carry handle can be swung up which is handy when carrying the radio or looking to hang it somewhere. Overall the radio looks and feels good. Coming in at just under the height of a jam jar it won't take up too much space or be too heavy to carry about.
Features and setup
In the box is the i-box Barrel, a USB-A to USB-C charging cable, a 3.5mm stereo audio cable for the aux-in mode and an instruction booklet. It's great to see that the packaging materials are paper and cardboard with no plastic bag or cable tie wraps.
There's no USB power brick in the box but most buyers are likely to have one from another device already. If you need to buy one they are widely available for a few pounds, but it's well worth choosing one from a reputable store or brand.
After leaving the Barrel plugged in to ensure it was fully charged we scanned for digital radio stations. The Barrel has Bluetooth 5.0 and pairing with an iPhone was very simple.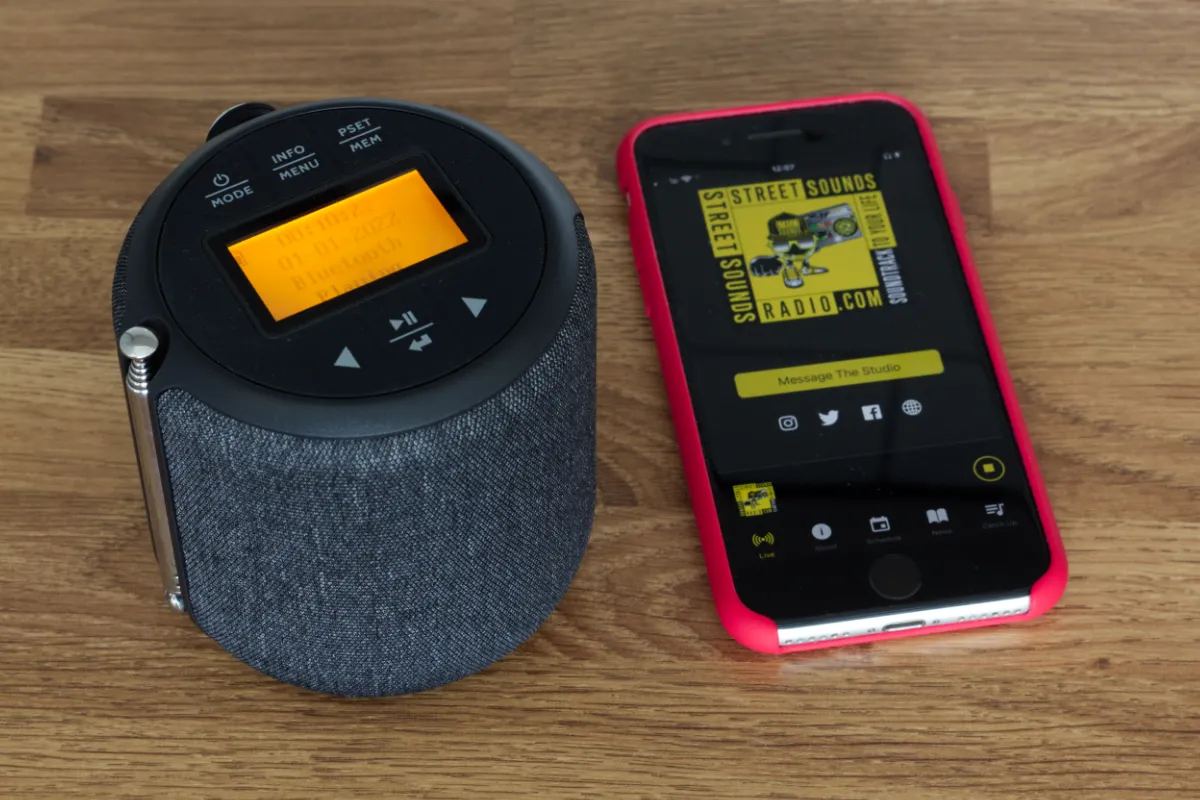 Reception of DAB digital radio and FM stations was good and on-par with many other digital radios we have tested. We reliably received the stations we should according to the digital radio coverage checker. Sometimes stations with weaker reception could be tuned into but the audio would break up frequently.
The built-in rechargeable 2,000mAh lithium battery should provide up to 10 hours of listening, according to the i-box website. On the lowest two volume settings we were able to achieve almost 13 hours of DAB+ and Bluetooth listening before the battery needed recharging.
Instructions in the user guide are clear and easy to follow with diagrams showing button presses and the text that will appear on the display. This is especially helpful when it comes to operations like setting an alarm.
Sound quality
The i-box Barrel has a single speaker and audio output of 3W RMS. This is more than the 1W RMS typically on offer from DAB digital radios in this price range.
Sound from the Barrel is impressive for a device of this size.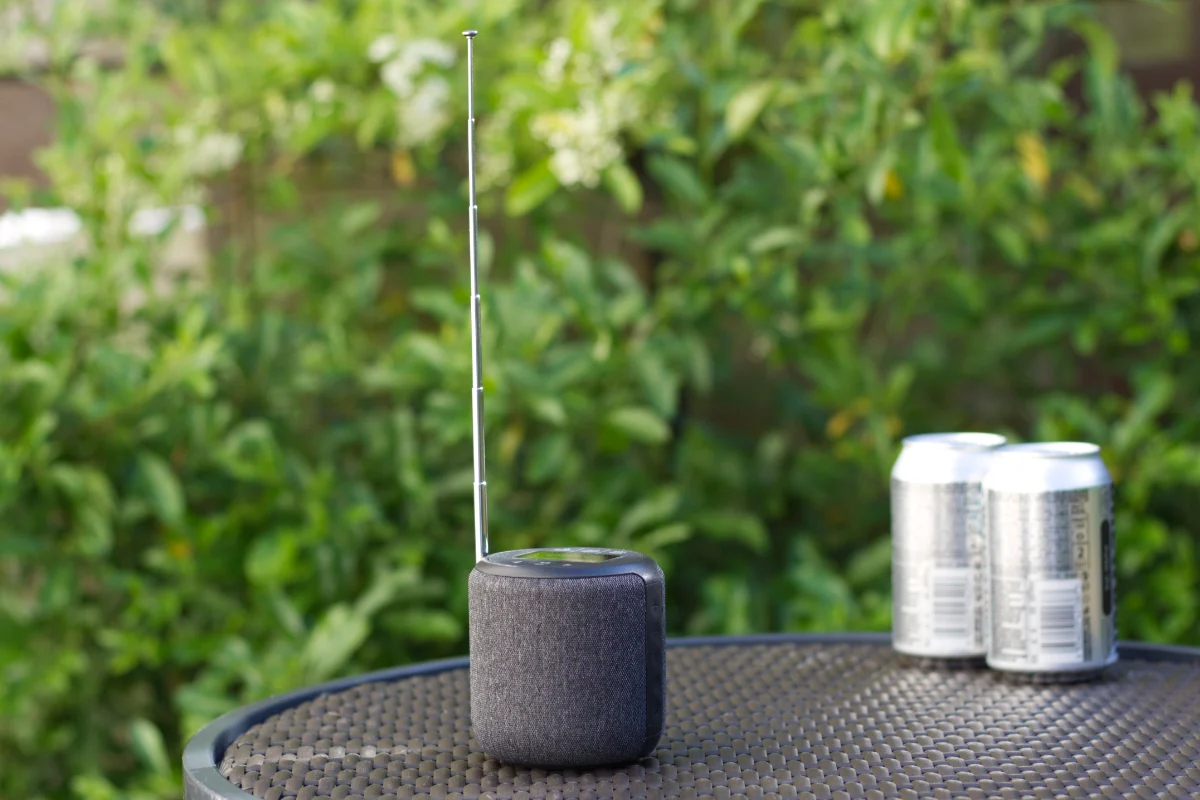 Button presses require slightly more pressure than with a normal radio, but the buttons provide clear 'clicky' feedback on each press.
Stations like Heart 00s and Absolute 90s sound very good with a pleasing balance of vocals, bass and other instruments. This carries over when switching to The Jazz Show on BBC Radio 2 where piano, drums and trumpets all sound good. We also listened to songs on Spotify over Bluetooth like Superstition by Stevie Wonder and Ice Cream by New York Pony Club. Here some higher notes and drum sounds were less pleasing, but equally it was nice to find that the bass on summer playlist songs doesn't overwhelm everything else.
Speech radio like news, cricket commentary and phone-ins all sound good. These can sound a little flat on some digital radios, but a bit of extra bass from the Barrel fills out the sound nicely.
When the volume is set to 2 out of 18 as shown with blocks on the display the speaker adequately fills a small bedroom. When outdoors with background noise from roads and birds, turning the volume up to 5 or 6 out of 18 was enough to comfortably hear sport commentaries.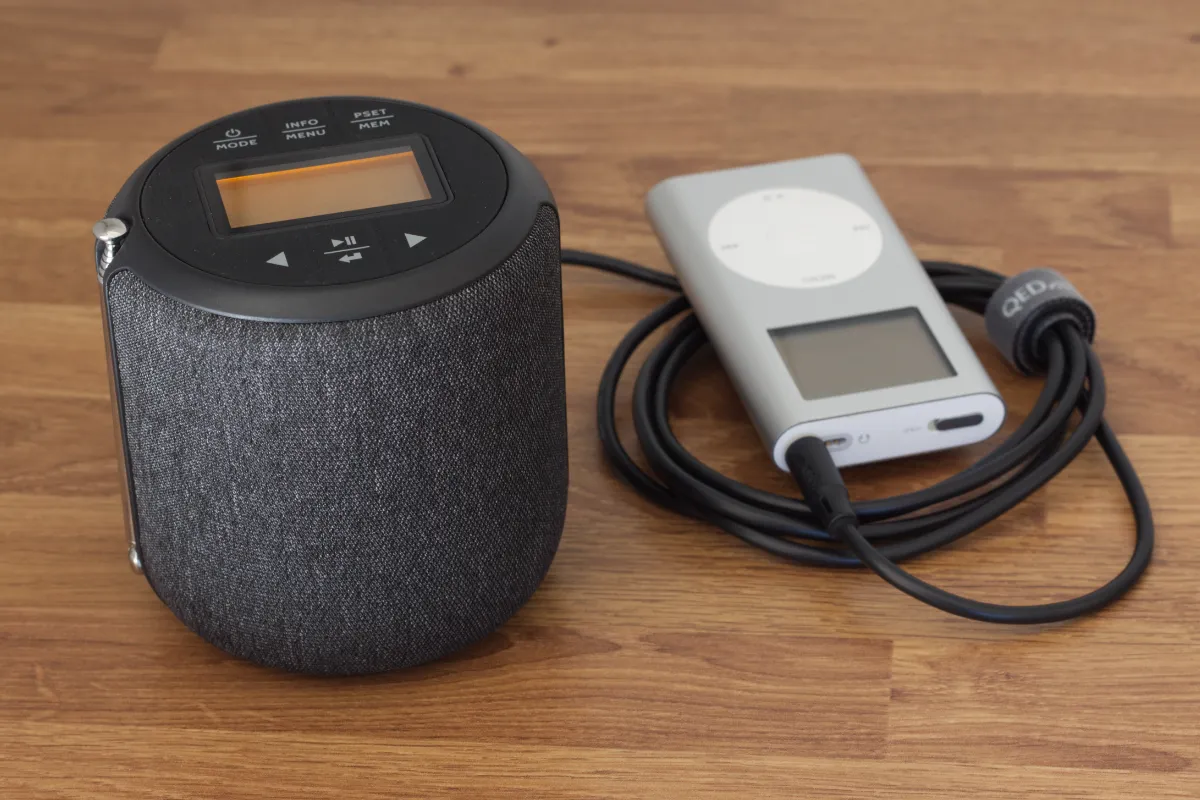 Getting closer to half of the available volume the speaker becomes really quite loud and probably more than would be necessary in every day listening. More variation in the volume at those lower settings could have been nice to have, but the speaker won't struggle to be heard over cooking or garden party chatter.
There's no headphone output or adjustable EQ settings.
User interface
Most of the controls for the i-box Barrel are on the top with volume and preset buttons on the side. A four-line display shows the time and date above relevant information for the current mode.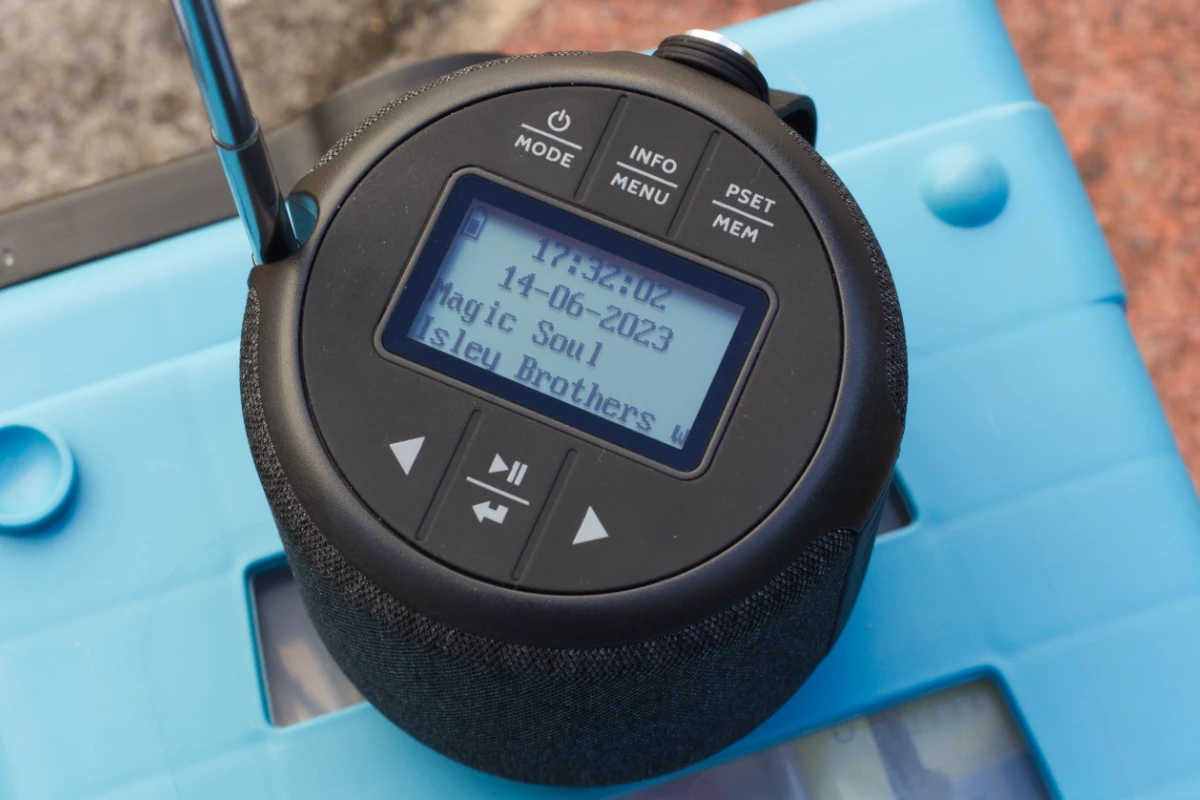 Switching between DAB, FM, Bluetooth and Aux-In is done with the top left button which doubles as the power button when held down. Clear left and right buttons navigate between stations and the centre button confirms selections and plays/pauses audio on Bluetooth.
The volume is adjusted with the up and down buttons on the side, above three dedicated preset buttons. We found that we needed to look at the buttons the first few times that we used the radio to see which is which, but the concave surface makes them easy to feel for once familiar with the functions. The buttons have a slightly rubberised texture.
The display is easy to read with clear text. Scrolling through DAB digital radio stations and selecting one to listen to was straight-forward. The battery level is indicated on the top left of the display.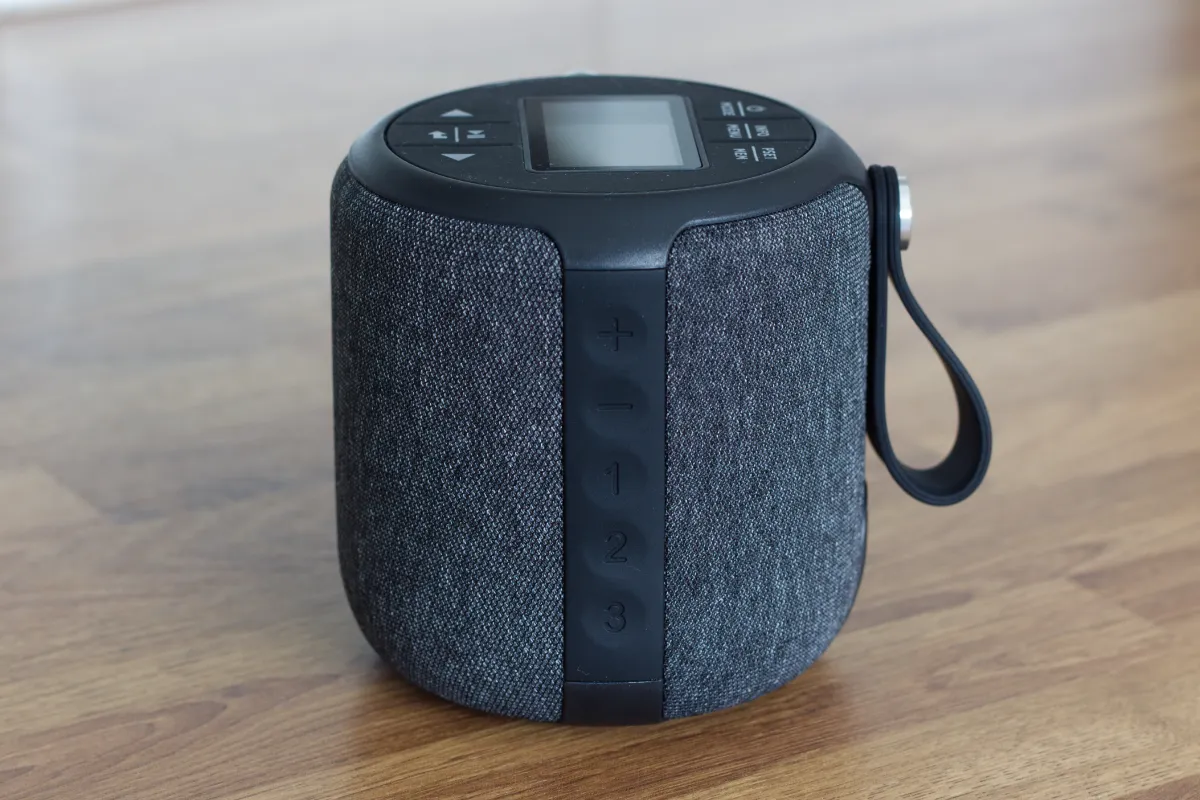 In bright sunlight the text on the display is still clearly legible. This is very welcome as many Bluetooth speakers like this are used outdoors and the display on some radios is impossible to read outside. The backlight illumination level can be changed in the settings.
Up to 30 presets can be saved in the DAB and FM modes for 60 in total.
Verdict
The i-box Barrel is priced at £54.99. While there are cheaper Bluetooth speakers out there the option of having DAB/DAB+ and FM is very useful when you just want to start listening without grabbing your phone and opening an app. Having a good compact speaker with an aux-in socket is a neat way of listening to an MP3 player too. It's good to see Bluetooth 5.0 as well as a USB-C port for charging.
i-box products come with a one year warranty which can be extended to two years when the product is registered on the i-box website.
Overall the Barrel offers impressive sound from a small package in a design that's ideal for radio and Bluetooth listening on summer days.
Save 30% on the purchase price when purchasing on Amazon.co.uk with the discount coupon code DigitalR30.