Digital radio brand VQ is teaming up with Laura Ashley to create a range of audio and tech products.
The collaboration is starting with a vintage styled digital radio and Bluetooth speaker. The Hepburn Mk II receives DAB/DAB+ and FM radio stations and is already available in several colours. VQ has become known for radios like the Retro Mini which comes in 36 different patterns and colours.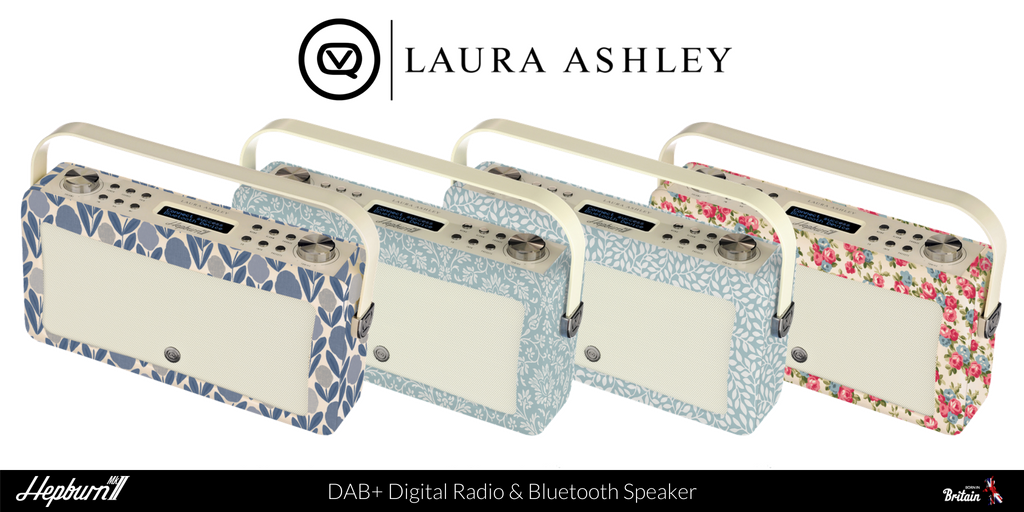 The textile brand, which was founded in 1953, has a wide range of prints to choose from. The new DAB digital radio range launches with Annecy, Little Vines, Meghan and Serena. VQ say there is "something for everybody from abstract to traditional floral."
VQ have already worked on collaborations with designers for several years, including Emma Bridgewater and Lulu Guinness.
In addition to DAB/DAB+ and FM reception the Hepburn Mk II comes with Bluetooth connectivity. Smartphones and tablets can use the radio as a Bluetooth speaker for listening to music, streaming services and podcasts.
The radio has 60 station presets, dual alarm clock, sleep timer and kitchen timer and a USB port for phone and tablet charging. The radio can be powered from a mains adapter or a rechargeable battery which is sold separately.
Sound from the dual "ultra-wide full range" 10 Watt speakers can be tailored for personal tastes with six genre specific EQ presets. The company says that the acoustic experience "is designed and engineered in VQ's UK studios."
The VQ Hepburn Mk II Laura Ashley Collection launches this September priced at £149.99 from myVQ.co.uk. The radio comes with a three year warranty and support from a UK based team. VQ's Hepburn MK II is designed and engineered in the UK.