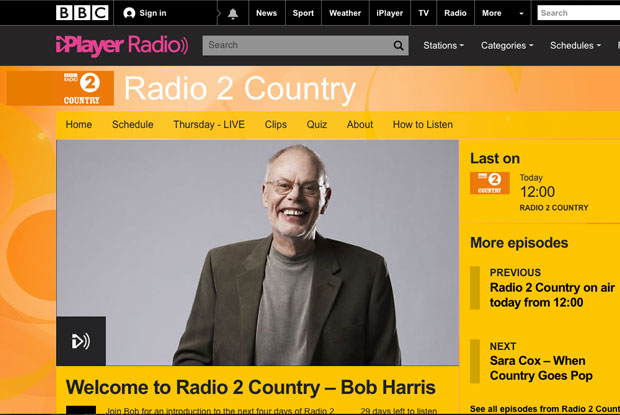 Bob Harris will launch pop-up station BBC Radio 2 Country today as it returns for the Country to Country festival.
The C2C: Country to Country festival is in its fourth year at London's O2 Arena. A stage was added in Dublin in 2014 and this year sees the Clyde Auditorium in Glasgow join as a new venue. The weekend is headlined by Miranda Lambert, Carrie Underwood and Eric Church.
On Friday Bob Harris and Jo Whiley introduce music from the festival with listeners able to hear performances and behind-the-scenes action.
Other programmes over the four days will include Don Henley selecting his favourite country music tracks. Cerys Matthews will explore the roots of country in "old time Appalachian and American folk music".
The festival started in 2013 and has co-incided with a rise in popularity of new country music acts in the UK. While the first events featured established acts, the 2015 festival saw Ward Thomas and The Shires appear on the satellite stage. Acts including Striking Matches, Sam Hunt and Laura Oakes appeared on new pop-up stages.
Country music stars Kacey Musgraves, Dwight Yoakam, Little Big Town and Thomas Rett join headliners Miranda Lambert, Carrie Underwood and Eric Church for the 2016 festival. For the first time a BBC Radio 2 Country stage will feature new acts.
Recent episodes of Bob Harris Country can be found on BBC iPlayer with sessions from some of those performing at the festival. Radio 2 hosts including Sara Cox, Steve Wright, Liza Tarbuck and Alex Lester will host special programmes on the pop-up station.
Baylen Leonard, originally from Tennessee and known for his work with Danny Baker, hosts a beginner's guide to country on Thursday, following a Country special on Radio 2 at Christmas.
BBC Radio 2 Country will broadcast from 12pm to midnight from Thursday to Sunday on digital radio, online and the BBC iPlayer Radio app, with selected programmes simulcast on BBC Radio 2.
It may be necessary to retune digital radios to receive the pop-up station.