Apple has announced that live radio stations will be available on HomePod speakers when iOS 13 is launched.
The company has also revealed the Apple Music and Apple Podcasts applications for desktop Macs. The new apps replace iTunes, which is currently used to buy and stream music, download podcasts and watch TV programmes. The announcements were made yesterday during the keynote speech at Apple's Worldwide Developers Conference.
Live radio will be available with Siri in the next version of Apple's mobile operating system. When asked for a live radio station Siri will play the station from TuneIn. Apple says more than 100,000 radio stations will be available.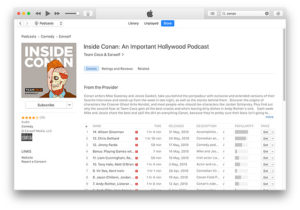 During the keynote Apple introduced Handoff. This new feature allows music and podcasts to be moved from an iPhone to the speaker. A sleep timer is also being added to HomePod so that music can be switched off after a set amount of time.
The new Apple Podcasts app in macOS contains more than 700,000 shows. Users can be notified when new episodes become available. New categories and "curated collections by editors around the world" will help users find podcasts by host, guests and topics.
Podcasts which have been started on another device can be continued under the Listen Now tab.
Apple Music will contain more than 50 million songs, music videos and playlists. Any music which has been downloaded, bought or ripped from CD will be available in the new app. Songs can still be purchased by users who prefer to own their music library rather than streaming.
CarPlay is also receiving an update with Siri support for third-party audio apps. A new Dashboard view will show music, maps and other information in a single view.
A release date for the new versions of iOS and macOS hasn't been confirmed, with Apple stating that the updates will come this autumn.